This was quite a good summer day. This morning, Freya and I went to the Mapleton Public Library, where I always love to do storytime. This morning we read about dogs and baby duck and monsters under the bed!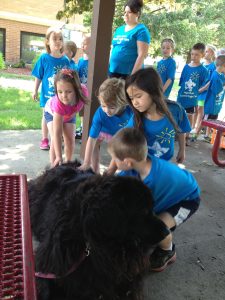 Freya, as always, was a big hit with the kids. They all got a chance to pet her. She loves the attention, even when she pretends to sleep through it.
Afterward, Freya and I walked around Mapleton for awhile. She likes the shady streets. Every time we've been there, she wants to go for a walk before she's willing to get in the car.
This afternoon, I spent some time with a good friend and this evening, I did the Mankato Isle of Man Time Trial staged in Rapidan. I cut about a minute off last time's time, so I'm getting back in better shape finally. It's a delightully fun event, thanks to Mike and Sheila Busch.