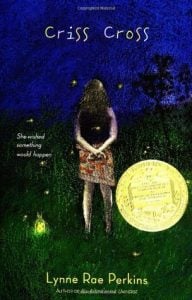 This book may not appeal to everyone. The first chapter made me wonder how on earth it won the Newbery. Second chapter, more of the same. By the third chapter, I was mezmerized. Reading this book was like being immersed in a beautiful flowing stream of consciousness–but moving from one stream to another–as we see various POVs and come to love each of the characters with whom we travel.
This is not a life-and-death drama. It's ordinary kids doing ordinary things–and some extraordinary things, but the way each bit of life is described holds us spellbound.
The prose is hauntingly beautiful. Lynne Rae Perkins is poetic and weaves her characters in startling, honest ways. I bet I thought fifty times, "I wish I'd written that sentence" while I was reading. Each character is believable and seeking his or her own place in the world. By the time I finished the book, I was madly in love with it: absolutely not what I expected when I began. It's a surprise and a treat, and I imagine Perkins will continue to fly with further books if she has this gift of language so beautifully.
I looked up her website, and she's got a newer book about a squirrel, Nuts to You, with all sorts of squirrel activities on her website. I guess this is a woman I'd like to know. The book is well, well, worth your time. Don't judge it by the first chapter!