This past Thursday, my friend Cindy Wilson–author of The Beautiful Snow, about the winter Laura Ingalls Wilder chronicled in The Long Winter, invited me on a road trip to De Smet, SD, to explore the town where Laura spent that long winter.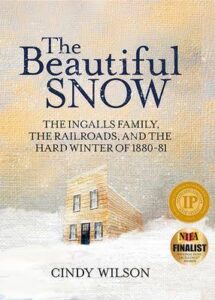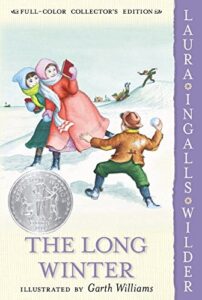 I like road trips, and in spite of all the controversy about Wilder's books in recent years, I will remain a die-hard fan of her stories and the details she's given us about life in the pioneer era. It's another issue entirely to talk about westward expansion, and what it did to all our Native people. It's also another issue to talk about Ma Ingalls' attitude about "Indians," because she was a complete product of her era. That said, I am forever a fan of the Little House books. My mom read the first one, Little House in the Big Woods aloud to my brother and I when I was four. We were hooked. 
It took me less than a second to answer yes to Cindy's invitation. 
De Smet is also the setting for  By the Shores of Silver Lake and Little Town on the Prairie.  It's been so many years since I read these books, that a week before the scheduled trip, I thought I should re-read the series. The week included Easter, so I didn't get as much reading done as expected; however, I'm working my way through them all again. At this writing, I'm in By the Shores of Silver Lake. 
 Thursday morning (after my required bike ride: a couple miles in the dark for the Nicollet BIke 30-Days-of-Biking  [outside, minimum 2 miles a day every day in April] Challenge), Cindy picked me up and we headed west. 
Needless to say, the two of us are never at a loss for things to talk about. We're also good enough friends that we're comfortable with quiet. There wasn't much of that, though. 
Cindy is a true historian, loves throwing herself into research, and her book The Beautiful Snow is not only thoroughly researched and fact-checked and edited, but it's beautifully (adverb chosen intentionally) written and illustrated with historical photos. Plus, it's an easy, smooth read!  I highly recommend it. Cindy's book focuses a great deal on the railroad, partly because Laura conveys a sense that the railroad abandoned the residents of De Smet. Cindy gets to the heart of how hard the train system tried to reach De Smet but simply couldn't!  That's an over simplification of that struggle, but here are a couple pictures I took of photo documentation in Cindy's book.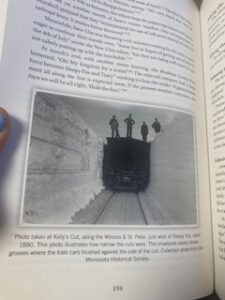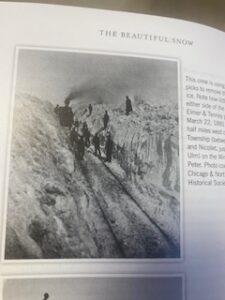 So this is all to be able to talk about our trip. We started by eating at the local pioneer-themed diner where food was delicious and the owner was the only waiter working. 
First stop: Silver Lake and the slough. The size is greatly diminished, and the geography has changed, but here we are: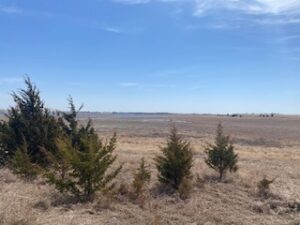 This is the site where railroad worker shanties were constructed, and the Ingalls family lived for a time. 
I took pictures of the Big Slough, but none of them due justice to its immensity.  Here the railroad tracks stretch across the slough, through/past Silver Lake.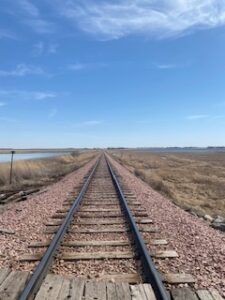 We visited the Laura Ingalls Wilder Gift Shop and Cindy, who knows everyone working at the center, procured us a tour of the Surveyor's Home where the Ingalls family lived for a time and the school building (not in its orginal location, but moved onto the campus) where Laura and Carrie attended. Mary was already blind by this time. 
The Surveyor's House is on the right, school building back to the left. 
Photos inside the home: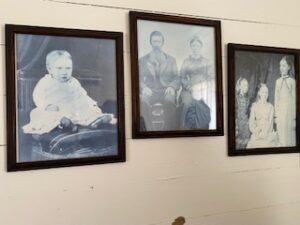 Authentic tools on display, and a recreated upstairs in the home, visible through a tipped mirror because the stairs are no longer trustworthy.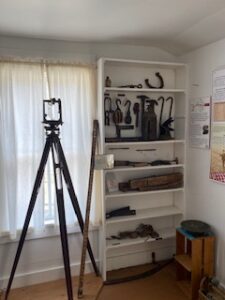 We also visited the home Charles Ingalls built for Caroline in town. Laura never lived there, as she was already married to Almanzo Wilder. Here are a few pictures. The first are the cupboards he built; the next are photos of Caroline (Ma) and Charles (Pa) in the front room.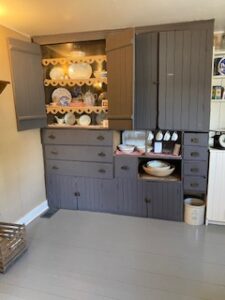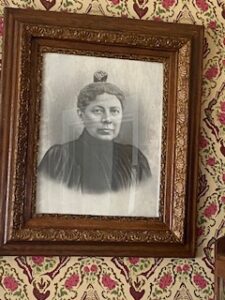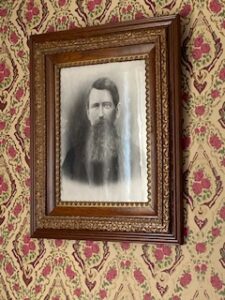 Below: the front room/living room in the house Pa built Ma, and Mary's room. The fold-out desk/glass-front storage was a piece from Carrie's home with her husband. 
I took more pictures, but I think I overloaded my phone's memory, so I have fewer than I expected. You're probably relieved, if you're still reading. 
After our tours, we drove out into the country and Cindy showed me the site of the school where Laura taught, and the home where she boarded at the time. Bouchie/Brewster school site is 5 miles "as the crow flies"   from De Smet, but  my GPS claimed it was 9 miles by road. At any rate, it was a commitment for Almanzo to drive out, pick up Laura, and take her for a buggy ride by Lake Thompson. We also had a terrific view of how massive the "Big Slough" is. 
A bonus was seeing lots of waterfowl: Northern Shovellers, pelicans, swans, many ducks, and lots of Canadian geese. Sadly we also found one shore where dozens and dozens of dead fish had washed up. Who knows that story? 
All in all, it was a delightful day. I'm grateful to Cindy for driving, for inviting me, for all the historical information. And I'm looking forward to her next book, which is getting closer and closer to publication.  I'm eager to plow through the rest of Laura Ingalls Wilder's books again, the first ones for the umpteenth time, but a few of the later ones for probably only the second time!