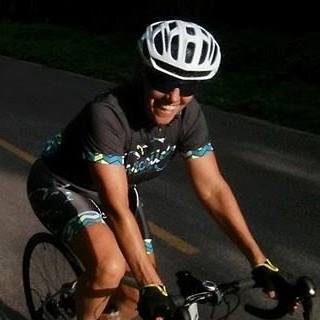 I miss long training rides.
I miss heading out on the bike, and knowing I won't be back for a hundred miles. Maybe I miss training with a goal. 
I have friends who recently raced the National Senior Games. Megan and Lori were the only two Minnesotans I knew that I could find on the National Senior Games women's cycling roster this year, but I gave up looking because it was becoming depressing to look at results.  The unselfish part of me applauds when I see Megan and Lori on the podium for the time trial and road race. And I truly am proud of my friends. The other less generous part of me is envious and teeters on depression because I can never race again.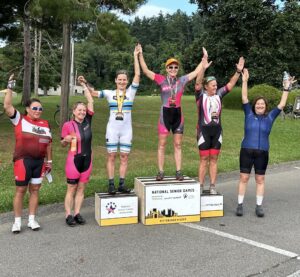 Megan (Second on this podium) and I vied back and forth in the same age group. She almost always beat me. But not always. At least, I know I would have/ could have/might have been competitive in the Senior Games this year. A couple years ago, I won three gold and one silver medal in the four Minnesota Senior Games cycling events.  Here we were (me in the middle; Megan on the right; Casey on the left) when I finally, once, beat Megan in the 10K time trial: 
e
But never again. My cardiologist was clear and adamant: No more racing. Never. Nothing that strenuous. Ever.
TTs were my favorite, but I excelled in the ultra events: 24-hour races and 12-hour time trials. Here are a couple photos of the last 24-hour race I did, with my son Josh as support.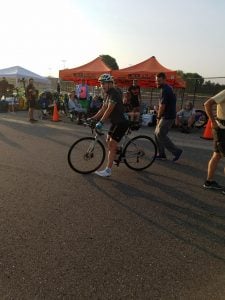 Photo By: Christopher Cavaliere – ChristopherCavalierePhotography.pixpasites.com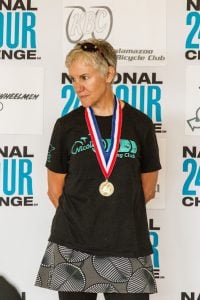 And here was the World Championship 12-Hour Time trial in Borrego Springs, CA. I went 200 miles in 12 hours and won my age group. This group of gals were my pals, team, and constant support. We four were in four different age groups. My son Josh (on the left) and Julie's husband Cody (right) were our crew. 
Now, other friends are plotting a coastal bike tour, and I can't participate—they do 50-125 miles a day on such adventures, and that's out of my realm of possibility. And outside the range of my E-bike battery.
What I miss most is long, epic training rides in order to do those events. I miss long rides. Those rides where I feel I gave my all and came back empty. My all is now contained.
I miss saying to my husband, "I need a long ride today," when "long" meant at least 100K, but more likely 100 or more miles. I even miss throwing up on the 161-mile ride for my friend Skarpohl's 61st birthday. I still contest that on that training ride, I threw up because the place where we stopped for lunch served not a single gluten-free option except a salad. I ate the salad (not nearly enough carbs) and threw up green at mile 135. I never got the green stain out of my shoe, either!
I miss being that person. I miss being race-weight, too. Since I went on Metoprolol, I gained 30 pounds, and have only been able to lose and keep off 5 of that. I don't like looking in the full-length mirror anymore, and I detest looking at myself in a swimsuit. But I force myself to do it. 'Cause that's the reality of being me. However…
I'm alive.
I can still have heart-to-hearts with my 40-something kids.
My husband doesn't give a hoot if I'm 25 pounds overweight.
My grandkids have more padding when they rest their heads on me.
I'm still strong; the muscles aren't quite as defined, but they're there, under some padding.
It's worth being alive.
I can still ride my bike, and in fact, with a high-performance pedal-assist E-Bike, I can still do group rides and keep up and even take a pull in a paceline. I can pull stragglers back to our "peloton."  I can't race, I can't push myself too hard, and I can't ride farther than 77 miles because that's when my E-bike battery dies. Yes, I have tested its limits. I haven't told my cardiologist that, yet, but I'll see her this week for the first time since I got my E-bike. I'll spill the truth, too. If she tells me I'm exerting too much, I am not sure what I'll do, but I'll cross that bridge when I come to it.
So bottom line is, I pull myself back from teetering on the brink of depression, and I force myself to be grateful and positive. Some days it's easy. Other days it takes a brutal act of will. Some days it takes just going for a bike ride alone, feeling the wind in my face and the sun (or the clouds or even the wildfire smoke!) in my face. Some days, I have to sit and rest in my recliner, read, and forget the world, and then get up and start all over again. But bottom line is, I survived the ruptured brain aneurysm and the aortic dissection, open-heart surgery and brain surgery.
So I am indeed grateful to be alive. Remembering that is what I need.
Epilogue: I saw my cardiologist, who said everything (EKG, echocardiogram, CT scans, and pacemaker check) all look ideal, and even better than a year ago. She said to keep doing what I'm doing. So I'll do exactly that.