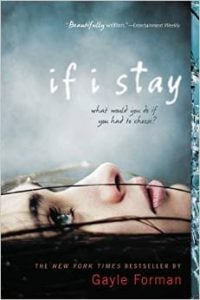 I almost forgot to review this book. I read it several months ago. I figured that I should read such a popular YA book and see what all the fuss is about. With all the buzz about the movie version coming out, I read it in the summer. Since it wasn't on the "required reading" list I made for myself for sabbatical, I didn't write about it.
I did think this was beautifully done, and I do see what the hype has been about. It's a great love story, primarily, and it's a terrific plot twist: the girl-in-a-coma watching the scramble to save her life after the rest of her family is killed. She replays her life, and falling in love, and has to make the decision whether to live or die. It's a good story, and it's certainly a good love story.
Since I'm writing a YA love story right now, it's something for me to consider: what makes a good one work, how does the author suck us in so we don't want to put the story down? I Gayle Forman does it well!
Still, this wasn't my favorite book, and I won't read it again. I like the character far more many YA love story heroines, though. So I guess that means I liked the story.