I feel strangely obligated to share the link to this month's Mankato Magazine. I'm self-conscious about it because I'm on the cover. But Robb Murray did a really nice job with the article he wrote. I've known Robb for years, but we realized, as we sat on my front porch and chatted several weeks ago, that it was the first time we'd ever sat down and had a long conversation. For me, that was my favorite part of the whole experience. Anyway, here's the  article. 
https://mankatomagazine-cnhi.newsmemory.com/?selDate=20211101&fbclid=IwAR178Atil74PeaEcqiWJRt7NvfzDPgCJYTGRu_ebwcPmJcBjoCab1QmhUXs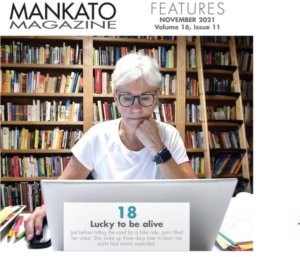 I had to get over my self-consciousness about this month's Mankato Magazine in order to actually read it, but when I did, I found it full of all sorts of gems. I loved Pete Steiner's wise and insightful reflection on November. The highlight on Gina Abbas (a friend and former student) was a delight, too. And I'm heading to Cork & Key sometime in the next week to try Leigh Pomeroy's recommendation (with Joan Roca's pronunciation guide :). I can't hit on each article in the magazine, but I need to say that Gwen Westerman's new honor as poet laureate of Minnesota is well-deserved; the article was deeply touching and true to what I know of Gwen. I'm honored to be in the same magazine with her. And Nick Healy's article as well as Ann Fee's are always fun to read and worth reading!
So kudos to Associate Editor Robb Murray, to photographer Pat Christman, and to everybody else who works hard on the magazine. We're fortunate in the Mankato community to have such a good local publication. Thanks!