The National 24 Hour Challenge is in the past now, a month+ ago, but I need to reflect a bit on it. This is more of a photo gallery for my own memories than anything else, but if you feel like slogging through it, more power to you.
This race was harder than I remembered. This one was the hardest. Maybe because I'm older, maybe because I didn't have a mega-mile base in the last few years like I did 16 and 17 years ago when I rode the event….but at any rate, it was hard. I dug down to the very bottom of all my resources: physical, mental, emotional, and spiritual. I was empty when it was over.
                                    I went to the race this year with the intention of setting an age group record. That's what lured me into doing it again. Two years ago, when I was in the hospital at Mayo after a ruptured brain aneurysm (see post from a couple years ago if you want that story) that had a 75%-ish chance of killing me, my son Josh and I joked about my being back at the 24 Hour in two years. "Hey, I'd be in a new age group. Maybe I could set a 60-64 year-old-women's record." That was that. Two years ago.                            
Until early January, when my scheduled trip to South Africa was canceled due to lowe enrollment. I realized I wouldn't be out of the country for three weeks in May/June, and I could train for this thing.  (There's a bit more to this story involving my friend Lisa, but explaining all that made this post way too long. It's for another time).                      
My dear friend Carol Daniels had told me a few years ago that if I ever did the 24-Hour again, she'd be on my crew. I called her up to see if she still meant that. Then my son Josh said he was going to find a way to come crew, too, even though his teaching semester wouldn't quite be complete. They both made good on their promises. They were the BEST crew I could imagine. Even other riders told me they thought I had the best crew in the whole race.   I did.                                               
When my son Josh kept track of my mileage: "Only twelve more [7.6 mile night-time] laps, Mom, for the record." "Only four more." "One more, and you've got it. You got this." When I had hit 345 miles, and had the record, I still had time for one more lap, but I was so spent that I couldn't go on. Josh asked if I wanted to do one more. "Nope. I'm done." He was visibly relieved.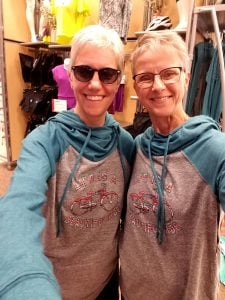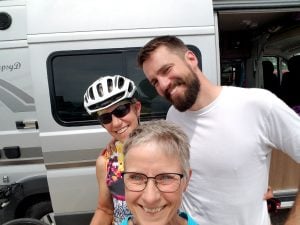 These photos were taken on the way to Michigan. The race is held in Middleville, near Grand Rapids. Carol and I drove her camper. Josh flew from Boston to Chicago, where we picked him up on the way.
And this photo shows how the officials triple-check their count of our mileage: Pull into the checkpoint, and one volunteer calls out your number to be written down. Another punches the appropriate mileage marker on your number, and third scans the number.  They're very efficient–and very encouraging!–with the goal of never forcing a pause longer than 10 seconds, and that was true for me.
At one point in the night, Josh and Carol were so concerned about my fluid and calorie intake that Josh was force-feeding me gatorade whenver I'd passed through the checkpoint. How many people get bottle-fed by their sons, I'd like to know. Although this is a tad embarassing, it's a precious photo. Josh was in frequent contact with our friend Mark Skarpohl, who still holds a record at this event. He kept sending admonishments (!?) to me, and giving Josh and Carol ideas to keep me going. It added some hilarity to our long night.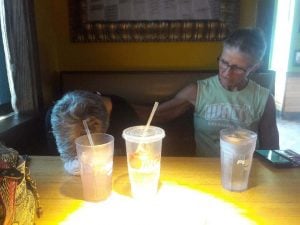 I said earlier that at the end of this thing, I was spent. I slept in the camper while Carol and Josh packed up their crewing post (awning, chairs, table, coolers, yoga mat, recliner, etc., and they only woke me when we arrived at Applebee's. When I walked into the restaurant, I collapsed. Imagine the staff, wanting to call 911, but Carol and Josh insisting that I was "fine, just exhausted…she just rode her bike 24 hours straight." I did come too eventually, but I rested my head on the table (above) until the food arrived!
Perspective: From this in December 2015 to this in June 2018 (even though this face is a grimace, not a smile).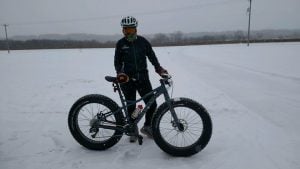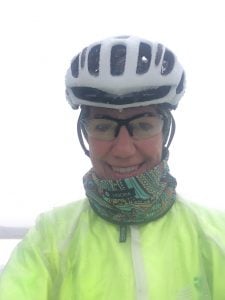 However, I'm so glad I did this race. The main reason I'm glad is because it forced me to train hard and ride all spring, long rides, hard rides, even when I didn't feel like it. Even in the snow. Even when ice dripped off my helmet.                                                       
I am finally in better shape than I've been in for seven years.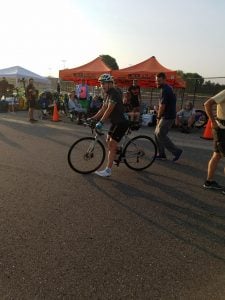 Here I am, with Josh beside me, pausing between laps.
I'm glad I pushed myself to this limit. I have long considered cycling my meditation, my stress-relief, my outlet that saves my psche and body. This was a new level. It was my own personal sweat lodge, fast, and cleanse, all in one. Going to the bottom of all reserves.  Having absolutely nothing left makes you aware of what matters in the world, and in the universe. I have felt an absolute sense of peace quite regularly ever since I finished this.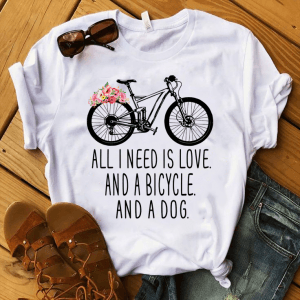 At any rate, it took several days before I felt like I wanted to get back on my bike, but I managed to ride my 62 birthday miles (plus a few extra) five days later, and I've been riding since. If nothing else, the experience confirmed my desire to continue meditating on my bike for the rest of my life. And to keep everything in perspective as much as possible.
Photos here by Christopher Cavaliere