UPDATES:
I am available to visit schools (middle schools or high schools are appropriate for my stories), libraries, bookstores, book clubs (I love book clubs)
Slider's Son was published Septemeber–2017!  North Star Press!
A murder! The boys smell something while playing baseball…It's a body hidden in Grant O'Grady's best friend's basement… Who? How? Why? The story unfolds…
At the tail-end of the Great Depression in small town, North Dakota, Grant O'Grady wants nothing more than to be a major league baseball pitcher. Everything changes when he realizes the danger his best friend faces. Hatred threatens to destroy Grant and his friends from the inside out. When Grant and his dad, Sheriff Slider O'Grady, find a man murdered, life as they know it unravels, and Grant has to help fight the prejudice of the era toward his best friend (his catcher) who is half Mandan Indian.
Grant comes to grips with the power within himself—to hate or not to hate, to be a friend, and to stand up for what he hopes is right.
It's real, and it's in bookstores and online NOW!
Next, Chasing AllieCat short film:
The 14-minute movie is complete. It was entered, was accepted, and premiered at the Citizen Jane Film Festival in Columbia, Missouri in October 2017, and in Mankato in November 2017. It has been entered in numerous other film festivals, and throughout the country–and is pending in one international festival. 
Our hope beyond hope is that the film gets enough attention and praise that we can get funding to make a feature-length movie of this story. 
Stay tuned!
From late 2016:
Steph Borklund, the director of this film, and I talk regularly. We've gotten to be such close friends, that we try to talk every week. She has done another cut/edit of the film, and it is TRANSFORMED. It's amazing, wonderful, chilling. I cannot wait to see the finished project. HOWEVER, my ignorance about how time-consuming film-making is led me to jump the gun. Right now, it's being sound-edited, with sound effects and music being added. This film will be ready for public viewing and submission to film festivals probably early summer 2017. Sooo… Next Summer will be a big deal in my writing life. This film will be viewable AND Slider's Son will be coming out.
Slider's Son update:
(2016)
Slider's Son is still slated for publication in September 2017 from North Star Press!
I found out that I will be receiving a Prairie Lakes Regional Arts Grant for "Mid-Career Artists" for money to help promote the book and to help defray the cost of author events: readings, school visits, bookstores, book clubs, and everything else I can manage. Stay tuned. If you work at a middle school or teach grades 5-9 and would like an author visit, email me! If you buy a class set of books, I'll come to your school free within 90 miles of Mankato.
If you want me to come to your school or library, book club, or community center, or anything else, let me know!  Email me through this wewebsite if you're interested. I love talking Slider's Son and the history of this story with readers.
Although I don't have copies of Chasing AllieCat  for sale, I also can talk about moving a story from the page to screen. Get in touch!
Slider's Son To be published in 2017!  North Star Press!
A murder! The boys smell something while playing baseball…It's a body hidden in Grant O'Grady's best friend's basement… Who? How? Why? The story unfolds…
I've been working on this novel for a full ten years. In 2007, I applied for a 2008 Minnesota State Arts Board Grant to do research on it in North Dakota. I made two trips to the area where the story is set (Stevens County, Lakota and Pekin specifically), and to a Mandan area, as well as the Mitchell Historic Village, which is a museum of the Mandan Nation. There, an archivist was able to point me directly to the information I needed about what was happening to Mandan people in the 1930s.
The book has been done for a few years. My former agent, George Nicholson, read it and made a few attempts to sell it before he passed away. It was the only book of mine that he read that he said he "loved." He also asked me to get some Native people's endorsement that the book isn't offensive in the world of Native Literature for young readers. I don't think we'll have a problem. I'm not trying to usurp anybody's voice. I'm not pretending that I know how to write from a Native perspective. I just have a character whose best friend happens to be Native.
In the process of responding to my agent's request, the Mandan Historic Village in Mitchell, SD, asked if they could keep a manscript in their archives! Yowzer! I guess that's a stamp of approval.
And now, FINALLY, this book will be out in the world in September 2017! WhooHOO!! Stay tuned for more info.
Chasing AllieCat Short film!
August 18, 2016.
I just watched a rough cut of the edited film. It's exciting! There's much more work to be done, however. I had NO idea…well, maybe I just thought an overwhelming amount of work went into making a movie, but now I've seen first hand how much it takes AFTER the shooting, to blend and edit just the right shots together to convey the story and emotion.
When it's all done, I'll be posting information about local, selective screenings of the short film, Chasing AllieCat. That might be late fall or when it's released, late fall 2016 or in the winter.  We're hoping Steph Borklund, the director and film-maker, can come to Minnesota and we can do a short tour of screenings in various public venues. I will let you know!
Check out this social media about the Chasing AllieCat movie in progress:
https://twitter.com/ChasingAllieCat
http://chasingalliecat.tumblr.com/
https://www.instagram.com/chasingalliecat/
May 19, 2016:
It's complete. The movie shoot, anyway. We're still going to try to get a little bit more footage with a GoPro in Mankato on the mountain bike trails. But the actual movie footage is a wrap.
It was surreal to watch characters I created in my head–and then on the page–that became a book–come to live in front of a camera.
It's real. It's really going to be a movie.  Check the facebook page below for more photos.
May 6, 2016:
I leave TODAY with my friend Carol to drive to Missouri for the movie shoot! I can't believe it's real!!!! I'll try to update the blog frequently with stories or pictures. Stay tuned.
Chasing AllieCat's Facebook page:
https://www.facebook.com/ChasingAllieCat/photos/a.1188353581194435.1073741827.1187665147929945/1249792608383865/?type=3
May 2016:
I leave in three days for Columbia.
Check this out. Here is the cast! and crew!
I have been gathering cycling clothing, working on getting local mountain bikers to get some GoPro footage (THANK YOU!), and signing books for donors to the project.  (Amidst a few other insane projects going on at home!)
April 2016:
It's happening. It's REALLY HAPPENING! Chasing AllieCat is going to be a film. I'm going to Columbia, MO, May 7-13 to be there/consult/edit/help(!) with the shooting! I can't even believe it's real. Right now, I'm gathering costumes (cycling clothes) that will fit the actors playing Sadie, Allie, and Joe. I have helmets promised on loan from Nicollet Bike, and several friends are offering loaner clothes. Much fun! And also a little scary!
End of March 2016:
We have a CAST! An AWESOME group of people will be playing the characters, bringing to life Sadie, Allie, Joe, Cecil, Father Malcolm (Well, maybe not to life), and more.
And check this out in Indiegogo!
March 2016:
Casting call-backs occurred last week. This week we will have not only crew, but a cast for this movie! I can hardly believe it's real!
February 2016:
The screenplay is in about its eighth draft. Steph has edited a few times, and she has workshopped it with bother classes of film students. They had spectacular ideas for changes, and we have worked to shape it into the best SHORT film that convey the heart of this story! Steph has also assigned production teams. They are working on wardrobe, PR, location, casting, etc., etc.. It's so exciting to me since I've never been directly involved in making a film before.
Steph asked me for a quote about the story. Here's what I came up with:
Chasing AllieCat is a story about friendship and about how, at the bottom line, friendships can save us. This is also a story about how getting strong–through following one's passion as well as getting strong through pursuing a sport–can change a person's life–even the life of someone who has been victimized. It's also a story about cycling, of course. Cycling or mountain biking is a sport that anyone at any age can enjoy, whether for causual fun or fierce competition. There aren't enough stories about biking. And there are very few stories about women who ride–and particularly few about women who race bikes. This is a big deal to me because for me, cycling is like  breathing.
January 2015:
It's done! Well, at least a draft is done. It's with Steph and she and her students and I are editing and tweaking and working together to make this a very cool short film. It's real. It IS GOING TO HAPPEN! Steph has production teams assigned, and the wheels are TURNING! OMG. Edits, edits, edits to the screenplay. I never realized collaborative editing could be so much fun. We're doing this!
December 2015:
Despite some personal setbacks in my arena (broke five bones badly in a bike crash the day after Steph called me in September!) And in early December, I had a ruptured brain aneurysm and spent 10 days in Mayo in Rochester and had BRAIN surgery (really, I still can't even believe that's true). But I beat the odds and came tired but OKAY. Back to work on this short screenplay.
Labor Day Weekend 2015:
Steph called. She asked if we can do a super-short film of Chasing AllieCat. If so, her Stephens College film students will make this spring semester. I need to get crackin' on a 12-page version of a screenplay of this story. Yikes!
June 2015: This screenplay is WAAAAAY too long. I'm taking an online screenwriting class to brush up on the most important skills I need here, and then digging into editing this sucker so it's done this summer, too.
December 2014: Hopefully next summer, Steph will dive into this project. In the mean-time, I'm going to do another major edit and cut more time off the movie time. Again, stay tuned!
August 2014: It's done! Well, a first draft is done. I sent it to Steph, and will edit away after she's read it. It's almost three hours long as is, so there will be LOTS of Darling-killing in the next edit. Stay tuned! It's so exciting to have this possibility.
June 2014:  (Where it all began)
My other current project is a SCREENPLAY of Chasing AllieCat! I will keep you posted on the blog about this progress. Steph Borklund, filmmaker currently from Missouri called me on May 16, 2014, and said she is serious about wanting to make a movie of this story! If I write the screenplay, she was going to begin a business plan for the film and start looking for funding when she "returns from L.A." And so, I have begun, and I'm having a blast! Stay tuned. There may be a MOVIE of Chasing AllieCat!!!!!!
I'm working on a picture book about a little skunk. Right now the title is
The Mostly True Story of Streak the Skunk
My writing group read it this week. In honor of the skunk, Kirstin posted this:
  http://unexpectedentertainment.net/skunk-family-meets-cyclist-dont-move/
Maddie and Ben Rafi Sumon Rafi: title of this book is
Who the Frack is Maddie Jackson?

 
This novel draft was complete during my sabbatical. I sent it out, and I know it's still not right. Why does it take me forever to get a story right? I'm editing this summer….done sometime this summer. I'm working on another story that is set in the Mankato area because it was so much fun to have readers recognize place and events in Chasing AllieCat.
In this story, the two main characters attend Saint Peter High School. Maddie is a Lutheran farm girl whose mom is super-strict. Sumon–name originated as Rafi–changed to Benroy –changed back to Rafi–is a Bangladeshi Muslim whose dad teaches environmental science at Gustavus Adolphus. College.  They bond when they both oppose impending frac sand mining in the Kasota area. When they fall in love, the world turns topsy-turvy and both families want them APART.  They witness a murder together, and all that binds them grows too strong to be broken by outside pressure…or is it?
This relationship is so much fun to write, that as I'm finishing the revision, I think….this could be a series….hmmmm…..There's enough to say about all these characters, that's for sure. (This picture is of slica sand, which is used for fracking, called frac sand).
RECAP:
So my big summer 2015 projects are: blog and write about South Africa, edit the screenplay, edit the novel Who the Frack is Maddie Jackson? and prep for teaching screenwriting for the first time (if the class makes enough people enrolled) in the fall!  I'm only about 1/4 prepared for that. Yikes. I guess I better keep my nose to the grindstone. And there's always riding, too. I reached my goal, to have ridden 1000 miles by May 15 before I left for South Africa. I'm making riding a priority; otherwise, I lose focus and inertia on everything else. That BIKE keeps me going.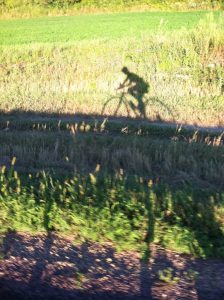 Invite Rebecca To Your Next Event
Invite Rebecca Fjelland Davis to Your Book Club, School, Library, or Group Events