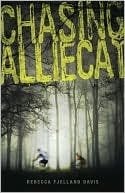 Tomorrow, July 15! New Ulm, here we come!
Sadie, Allie, Joe, and I (well, they're alive and well on the pages of Chasing AllieCat, so they're certainly coming with me) will be at the New Ulm Public Library on July 15.
At 3 p.m., I'm meeting the teen reading group.
Public reading and book signing 5:15-6:15.
Everybody's welcome.
Books available for purchase, of course.
And, um, bicycles are welcome, too, of course!