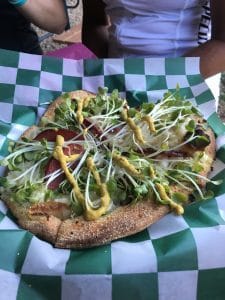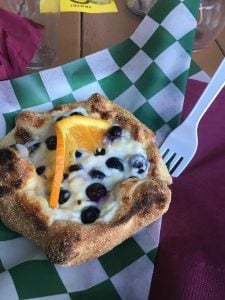 Last night, I met some friends at Nicollet Bike Shop in Mankato to ride gravel roads out to Morgan Creek Vineyard, near New Ulm.
First, let me say that I've just obtained a gravel bike in the last half year. I love exploring gravel roads alone or with a couple friends, but I have not before last night done an "organized" gravel ride with a group. Soo…I was nervous about the ride.
However, this group was spectacular to ride with. I'm the oldest in this group by over a decade. I used to be fairly fast–or at least, I deluded myself into thinking I was–but I'm absolutely the weak link in this group in 2017! They were kind, rode a pace slower than they usually would, and waited for me at the top of hills. I had a blast. I can't wait to ride the "Courtland Gravel" route again soon.
Then, we arrived at Morgan Creek, and chowed down and consumed wine (or beer). I had to show you a couple of the things we enjoyed. They offer a wide variety of wood-fired pizzas, including the cream cheese-blueberry-basil sweet delicacy pictured. Will ordered a German sauerkraut-sausage variety topped with sprouts as pictured. It's a highly-recommendable spot for a night out.
And our ride and our companionship was perfect. Thanks for waiting for me, my friends!
Isn't it a beautiful spot?