Shiloh by Phyllis Reynolds Naylor
This is the last book review of my sabbatical semester. This review is actually being written in the morning of January 7, the day I will turn in my sabbatical report because spring semester resumes for faculty tomorrow, January 8.
This is the last review because I dreaded reading it. Unlike some of the thick and dense South African books I've read this year , this is a fast and page-turning read. However, I put it off. Why? Because when I taught Children's Literature several years ago, one of my students used this book for her middle grade analysis paper and presentation. I have had it on my "to read" list ever since, and have picked it up and put it down. Now, finally, faced with my deadline, I had to read it.
Why? Because I absolutely hate books in which animals are abused or neglected. Check out my responses to The One and Only Ian and to The Underneath. I hate and can hardly stand to keep reading. For some time, I never told anyone this. It seemed a flaw that I could read about human misery and keep going, but animal misery sent me over the edge. I've since decided that this isn't a flaw at all; that humans have no greater right to this planet than the animals do, and that compassion for a somebody who might not be able to make sense out of his or her misery or have any means to improve his/her situation isn't exactly something to be ashamed of.
So….Shiloh.
Eleven-year-old Marty finds a puppy, who is obviously being mistreated and neglected. The puppy bonds to Marty, and leaves his master in favor of Marty's company. The master, Judd Travers has a gun, and is a liar and a cheat. Marty has seen it. Judd also  doesn't want to give up the puppy, Shiloh, to Marty. But Marty and Shiloh have fallen in love with each other, and Marty will do whatever it takes to keep Shiloh safe and to get to keep him. The ensuing story is heartbreaking, as I knew it would be. I had to put it down a couple times. How do you take a dog who almost dies back to the abuser? It makes me livid.
Marty finally makes a deal with Judd, and hell or high water, he keeps his end of the bargain even though it's not exactly safe for an eleven-year-old boy. There's no way to review this story  in more than a few sentences without spoiling the ending, but suffice it to say that Marty grows a great deal in the course of this story. The big bad Judd even grows and has some realizations, well maybe at least one.
The voice is probably one of the winning characteristics of the book. Marty narrates in a uneducated syntax but it's musical, and Marty is observant, and wants to be honest, so the voice carries the story and only add to his reliability as a character.
Okay. So I'm glad I read this book. I think. It was painful in the middle, but I got to the end, and it was worth the pain. I think.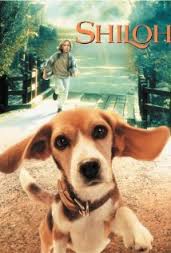 Naylor, Phyllis Reynolds. Shiloh. Atheneum, 1992.