I just finished The El Dorado Map by my friend Mike O'Hearn.
It's a couple days until Christmas. If you like adventure stories, if you like westerns, if you like great plots with twists and turns and plenty of danger, and you like a character you can root for and love, who ends up growing miles by the end of the book, then this story is for you, no matter what your age. It is, by genre, a middle-grade novel, so if you're looking for a last-minute present for a youngish reader, male OR female who likes adventure, my advice it to jump on Amazon or run to Barnes and Noble and get this ASAP.
I just survived an aneurysm and brain surgery, and I read this book in two days; I couldn't put it down.
The back of the book reads thus: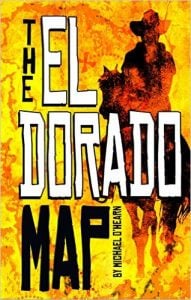 "When your pa's an outlaw, you grow up mean, tough, and fast–unless something powerful, even supernatural, changes that path. One day, young Cody's path changes with a bang. Arrested after a stagecoach shootout and deserted by his pa, the young gunman finds himself alone in the Freelands. Alone, except for a mystical man in black, who aids Cody in his escape from jail. Once free, Cody sets out to blaze his own trail but instead finds trouble–including mythical creatures and legendary beings–at every turn. He also finds a map to the fabled city of El Dorado, where the streets are supposedly paved with gold. But his good-for-nothing pa is after the map as well. It's only a matter of time until destiny brings their paths together again…"
Yes. Yes, yes, and yes. The mythical creatures are woven so seamlessly into this story that the magical realism breathes as easily as the horse Cody rides. I think of Marquez or David Almond who have created real worlds woven with magic realism. Here it happens in the old west, riddled with danger and real human emotions. I forgot the beings were legendary. They were fully alive and believable for me. And I feared them…and came to understand them.
Cody gets into the kind of trouble that forces him to make decisions about what kind of human being he wants to be…who he will become…if he survives being his pa's son. I held my breath a few dozen times while reading this book. High praise. I couldn't put it down, and I doubt you or anyone on your list will be able to, either. Read it. You won't be sorry.
O'Hearn, Michael. The El Dorado Map. Mankato, MN: Capstone Young Readers, 2016.