So it's been quite a two-week period. Carol and I left two weeks ago tomorrow for the filming of Chasing AllieCat the movie in Columbia, MO. It was surreal to see the kids–the characters and the scenes I had created come to life before the camera.
Here's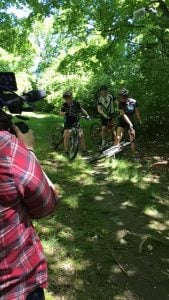 Allie and Sadie and Joe as they appear in the movie.
Here's the camera crew in the woods, preparing for the scene where Sadie, Joe, and Allie find Father Malcolm. ALL the students working on crews were amazing. I loved hanging out with the entire group of Stephens Film Institute women!
This is  the set-up before Father Malcolm is planted in the woods.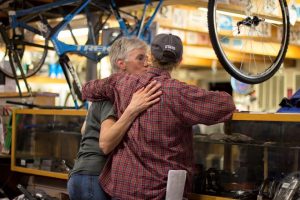 Steph and I confer, trying to figure out a scene in the bike shop.
So all of this was a whirlwind, but delightful and exciting and exhilirating!
Then I got home with enough time to do laundry and repack and head north to St. Joseph, MN for the YAYA (Young Authors/Young Artists) Conference at the College of Saint Benedict.
I'm the keynote speaker for all three days of the conference (different group of kids each day). Each day, the auditorium is filled with 500-some kids! I have to keep them paying attention!
I do my schpiel about 5 rules for writers
1. Read
2. Live
3. Pay attention
4. Apply the seat of the pants to the seat of the chair
5. Write!
And I talk about animal metaphors for writing to completion (all of this can be applied to doing art, too). I use how I came up with the story  Chasing AllieCat by "prairie-dogging" it together–using random unrelated weird things I'd noticed in life and tying them together as if digging a prairie dog town to connect them underneath–to make them all fit together into a story.
The copies of Chasing AllieCat sold out the first day. Luckily, I had ordered a box of 60 books before the movie shoot. I had 50 left, which the bookstore took on–and they sold all but the 15 they reserved for tomorrow's crowd!
So…all of this should make me VERY happy. This is what writing success is, right? It's the kind of thing you dream of when you want to write and when you spend long hours alone in front of the computer in the basement. I was flying high.
THEN the bookstore called FLUX–Chasing AllieCat's publisher–to ask if they could get another 50 books in a hurry. Second choice: to buy the 50 books to replace mine rather than trying to pay me for them. Today FLUX answered that they only have 2 copies in stock, and  they aren't sure they are going to print any more!!!! So finally all this good stuff happens, and the book that made it happen is going out of PRINT!???? That's a writer's nightmare. There's still hope, but slim.
From the highest high to the most depressed low. Such is the emotional life of a writer! (My mother would have said, "Pride cometh before fall.")
Good thing we write because we love stories. If we wrote for some modicum of "Success," It would be the most depressing career in the world!