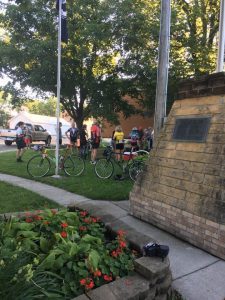 In the last few weeks, the Mankato cycling community has been plagued with crashes. One super serious one has left a friend in Mayo in Rochester, after having been run over by a car (no one's fault; just a random horrific accident). He's recovering, but it's going to be a long road. In another just this week, four people went down in the Tuesday night "A" ride, and Will's bike was totaled. Totaled. He and Emily and two others came away with significant road rash. Will's bruised and sore.
However, we keep riding. These crashes are scary. They give us pause. they trigger all our keep-ourselves-safe reflexes, but riding is who we are and what we do, so we keep on.
Last night was the final or the summer's Isle of Man(kato) Time Trials. We had a huge crowd, perhaps the biggest ever, and had a blast. Mike and Sheila fed us and supplied beer afterward, too. This year, participants have ranged from age 5 to age 76. (I do happen to be the oldest woman participating so far. That gives me the advantage of setting the SENIOR women's record!)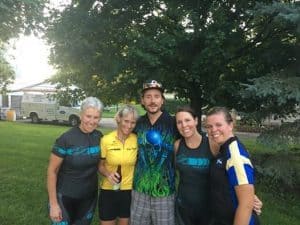 The time trials are a testament to the cycling community. We're friends, we support each other, and we have fun together pushing ourselves as hard as we can. The rest of our lives are vastly different, but this thing we have in common binds us closely.   And thanks, Mike and Sheila for continuing to put on this great series every summer.