Here I am in the middle of the Ballard Middle School 6th and 7th Graders. What a treat to be in my own hometown, talking about Slider's Son and about writing in the very building where I went to high school. The last time I spoke to a group in that building was at my own high school graduation! And this crew of students was amazing. They were superb listeners (in fact, the auditorium had that pin-drop quiet aspect while I was reading), they asked stellar questions, and their enthusiasm was palpable in the auditorium. I was nervous about coming to Ballard. "A prophet is not without honor except in his own hometown." –Jesus
I'm no prophet (ha!), but there's that stigma that it's hard to be appreciated where everybody knew you as a kid. Maybe I'm old enough that that's not an issue anymore. Also, if you bomb in your hometown, you really bomb. I mean, no one will forget that you made a fool of yourself (least of all you!), and it's unlikely you'd ever be asked back for a repeat performance. At any rate, the morning in Huxley, first with the middle-schoolers, and then at the public library, was wonderful. I felt recharged and excited to get back to work on my next book by the time I left.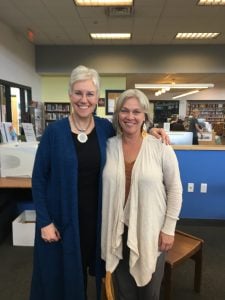 Here I am with the delightful librarian in Huxley (both public library and school library housed in the same space), Cathy Van Maanen. And here I am with Marilyn Greene, a retired teacher who was my neighbor for most of my growing up years. I babysat her son, who is now a middle-aged man himself!
Some other friends I have known since I was in grade school showed up at the library, too. What a treat to be in Huxley. 
This has been a busy few weeks, but the whirlwind has been fun. I feel as if I've been neglecting my own students, so I hope I can make it up to them by the end of the semester. I better get at some grading. Now.