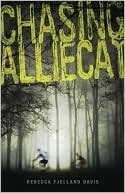 The short film of Chasing AllieCat (see "New Projects") will be ready sometime early next summer/late spring.
One of the cool things about the filming of  my story Chasing AllieCat is a small resurgence in the popularity of the novel. It sold out entirely from the publisher's warehouse. When FLUX was sold to another overseeing publishing house, Chasing AllieCat went out of print.
Steph Borklund (her arm is visible in the second photo here) is working on editing the rough cut of the film. The last version I've seen is amazing. Gave me chills, even though I wrote the screenplay! She's made some terrific edits, and has been kind and gracious enough to ask me if I'm okay with some of them that change the screenplay language. Like ALL edits, no like MOST edits, it's hard to let go of  a writer's "darlings," but they make the story tighter, better, clearer. SO grateful Steph is doing this film!
So now, the only way to get a copy is through used books–Amazon or B&N online. I have to buy books that way when I go do an author event about Chasing AllieCat! 

In the meantime, I'm doing a few book clubs again: I visited a book club on Monday what was a pure delight. The women who had all read the novel had wonderful questions. We had a great discussion, and they plan to ask me back when Slider's Son comes out.
I'm scheduled for another book club in late October, and just got book copies to that group yesterday. YAY!
And, here's another delight: I've been asked to speak in my colleague's creative writing class about the transferrence from novel to screen play. That's coming up this Wednesday.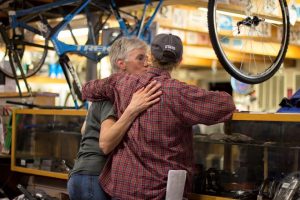 Here's Steph and me. We were consulting about how to get a shot we wanted inside the bike shop.
November: I'm going to Citizen Jane Film Festival at Stephens' College. I'll just be a visitor this year, but I am going to speak to the creative writing class there about collaboration with Steph on the screenplay, and about moving a story from prose to screenplay. All this is exciting!!