I've been so busy with school and life that I haven't blogged for ages. First, I need to announce that Allen Eskens will be visiting South Central College, Conference Center B, on Wednesday, March 21, noon to 1. He'll talk and read; all four of his novels will be for sale, and Eskens will be available to sign books.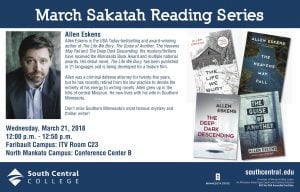 I read The Deep Dark Descending, sequel to The Heavens May Fall, while we were on a short vacation in Florida, and I could barely put the book down. If the beach and blue blue Florida sky hadn't been calling me, I might have spent an entire day on the balcony, finishing the book in the sun (which is what I did, but I was done long before noon the day I finished it).
I think Allen Eskens is THE up-and-coming Minnesota mystery thriller writer. I like his stuff every bit as much as William Kent Krueger's and John Sanford's. And I'm a big fan of both of those guys. I also love Dennis LeHane (Mystic River, The Given Day, Shutter Island), and Allen's work reminds me of LeHayne's because it has that kind of dark depth where good and bad isn't always clearly delineated. Moral choices are not simple matters of seeing justice carried out in the clear path of the law.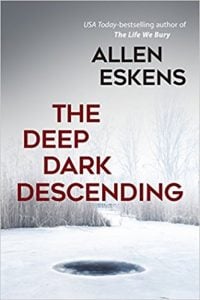 The Deep Dark Descending was one of the creepiest, enthralling stories I've read that unraveled in surprising ways until it seemed only one ending was possible…and I found myself thinking, "No, no, no!" and then "YES! Yes! YES!"
I was utterly satisfied–and emotionally exhausted–at the end. The best way to feel after a great book.
As a reader, I am always reading at least two books at the same time: at least one on paper and one on CD or Audible while I'm in the car or on the trainer if it's too icy or cold out to bike outside. This winter, strangely, I read three books at basically the same time all of which had plots centering around trafficking young girls and sex slavery exploiters. One was Deep Dark Descending (I don't think I'm revealing too much here). As the detective–Max–whom we cannot help but love as we live in his skin in this story–seeks to understand his wife's death, the story itself gets deeper and darker and tangled in those depths. I think this story gets to the gritty soul of how far each of us allows our imagination to go when confronted with outright evil. 
On the same note, the other two books I was reading at the time were William Kent Krueger's Windigo Island and Warren Adler's Mother Nile. Ironically, I simply read most everything Kent Krueger writes, and I was hankering for something Egyptian, so picked up Adler's book (having no idea he is the famous author of The War of the Roses). All three books deal with trafficking of vulnerable young women from different parts of the globe–and Eskens' and Krueger's stories evolve right here in Minnesota. 
The point of all this: it was strange to find myself immersed in three stories about trafficking. Allen Eskens, a bit less known (at this point, but I doubt for long) than the other two authors, holds his own in every way. In fact, I find myself wondering about Max, Eskens' detective and protagonist, long after I've closed that book. Maybe even the most of all three stories' characters.  That could be because I know I'll see Cork O'Connor again. It could be because Osiris resolved his Egyptian adventure in Mother Nile. But it's not just that. In my opinion, the very best characters stay with me, and I wonder what they're up to long after closing the covers of their stories. Max does that. He's real. He lives and breaths within these stories Eskens has created, and I can't wait to spend time with him again.
I can't wait to read my next Allen Eskens novel, and I am thrilled that he has agreed to visit South Central this Wednesday. Come hear him if you can!