Yeah, I have escaped death's clutches a few times, including the aortic dissection and my brain aneurysm.  So I received this: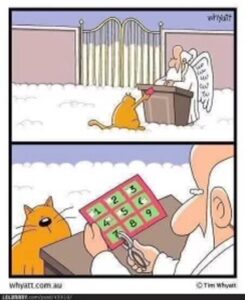 I have to laugh, right?  
And I spent a little time laughing with myself as I thought about titles for that blog post about my latest health scare. Here are a few of them:
Called, not chosen
Punch Card at the Pearly Gates
Because I could not stop for death
If it were up to God instead of the doctors, I could be dead
Can you foil death? More than once? 
And if I'd been born 75 years earlier, I would have been dead by now at least four times. Was that part of the grand design and I was supposed to die? I hope not, but it's possible if there is indeed a grand design. I'm grateful every day and actually every hour for this outcome. I'm just grateful for science, research, surgery, and people who love me. Maybe the combined force of all those is God.