Bryce Courtenay says 'bum glue' is a critical key to writing – relentless discipline, no excuses, just get on with it.

Bryce Courtenay wrote one of my favorite novels ever, The Power of One, set in South Africa. Ever since reading that novel for the first time, I've wanted to visit South Africa. Now at looks as if it will be happening in May.

SCC Field Trip to South Africa May 20-June 7. Plans are shaping up. Stay tuned.

In the meantime, I had the best writing weekend I've had since school started. I was on a bike ride and and one of those "aha" moments when I knew what I had to do to switch around the novel I've been working on all summer. I'd been feeling stuck, ground into the mud and the action, which was wonderful at first, was starting to bore me. Time to shake things up. I got the idea…moved the location of the story (and for me that's a big deal because I tend to set things very very firmly in a place, but that's what it needed). I wrote fifteen new pages yesterday, and can't wait to get back to it.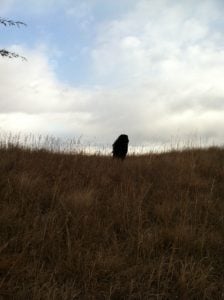 And that's all I can say. I have to write it, not talk about it, and follow Bryce Courtenay's rule about BUM GLUE, no matter how much other stuff I have to do!

So, commitments for the fall:
Be a good mom and grandma.
WRITE.
Be a good teacher and friend.
Be a good dogmom to Freya (see above photo for that reminder).
Ride my bike, no matter how busy I get.

Back to Bryce Courtenay, he recited a poem, a twist of a passage from Song of Solomon (and my poor paraphrase):
A time to live
a time to die
a time to laugh
a time to cry
a time to love
a time to hate
and all of us have
a "use by" date.

Love it. I NEED to use the days of my life, the hours, to WRITE.