It's been a month since Slider's Son came out in the world. What a crazy whirlwind. I'm happy with the reception it's getting. I haven't heard from a single person who hasn't liked the book.  The problem is just getting it in more people's hands–and getting people who matter to read it! If you are reading this, and can encourage that, please do! 🙂 If you have read it, and post a quick review on  AMAZON.com, on GoodReads, or on Barnes and Noble.com.
Please and thanks!
Monday, I took my Children's Lit students to Betsy's and Tacy's houses–of Betsy-Tacy Maud Hart Lovelace fame, right here in Mankato. It was a fun little tour.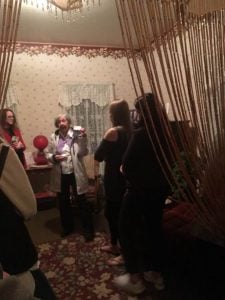 Today, my Humanities students and I are headed to the Twin Cities for Minneapolis Institute of Arts, dinner at the Ol' Spaghetti Factory, and to see Romeo and Juliet at the Guthrie!  What an exciting day! (And week)!