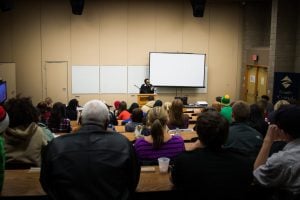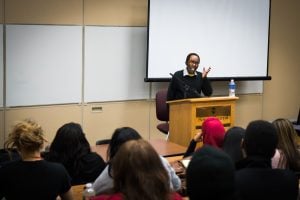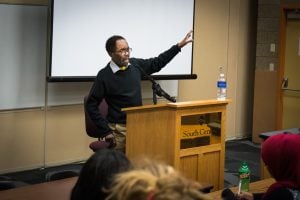 Today, Joseph Mbele spoke to seventy-eight people in the Conference Center at South Central College. He talked about the concepts in his book, Africans and Americans: Embracing Cultural Differences and  about the challenges writing about Africans and Americans in a way that both Africans and Americans would read, understand, and laugh about both groups. He charmed us all with his humor, gentle manner, and delightful stories about interactions and misunderstandings between Americans and Africans. The crowd was entranced, listening intently without moving for such a long time that the motion-censor lights went out in the conference center full of people!
Joseph spent the morning talking with students in the my Humanities course, Global Connections: Culture and History of South Africa. The time flew by!
We feel so privileged to hear his wisdom and wit and to be able to gain such valuable insights into ways Africans and Americans relate to each other. My class asked great questions, and Joseph is always generous and gracious as he answers. I think the two hours with Joseph made us all the more excited about our trip to South Africa in May! Three months from now, we'll be in Africa!
Dr. Joseph Mbele is a professor of English at Saint Olaf College in Northfield, Minnesota. He is the author of  five books, including the above-mentioned Africans and Americans: Embracing Cultural Differences and Matengo Folktales. He is a renowned scholar and speaker on African and American cultural interaction as well as Folklore, African, American, and Post-colonial Literature.
Thank you, Dr. Mbele for your visit to South Central College!