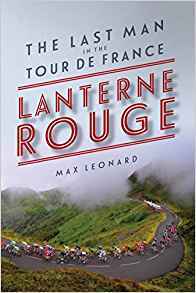 I got a new perspective on being a dedicated writer who writes stories people like to read, but may never, ever make the best-seller list or win a national award.
Last week, I completed this delightful book, about the back end of the Tour de France, by Max Leonard. Since I'm a bit obsessed with Le Tour, and try to catch the stage live or at least highlights each day now that it's on NBCSN, this was a perfect time to read this.
Gianni Andersen (Flying Penguin Outdoor Sports) loaned me this book because he knew I'd enjoy it. My friend Chris Corley gave him the book originally, so it's going full circle while making the rounds. I didn't expect the story to open my eyes in a metaphorical way. And it's appropriate that Gianni introduced me to this book. He was the first guy who made me believe that maybe I could be a serious cyclist. He does much for the cycling community in the area.
The book is about the Lanterne Rouge (Red Lantern) which is the term given to the man who completes the Tour de France each year in dead last spot. Max Leonard, a respectable amateur cyclist in his own right–which might be a necessary aspect of understanding this concept–did massive research to bring us the stories of all these men. I loved it.
First, let me say that finishing "last" in the TDF is no small matter. The last man finishes. That is NO small feat with three weeks of racing over grueling, mountainous terrain and killer-speed sprints. For example, in 1906, 82 dudes started the race. 14 finished. In 2016, 174 out of 198 finished. Average speeds (for the whole darn 21ish days of racing) can be 25 mph. So, that said, being the Lanterne Rouge may not be glorious, but it's still DAMN impressive and HARD.
Hmmm. That reminds me of getting a novel published. The books that skyrocket to NYT bestseller status don't take any more work or time than writing a "little" book that only gets some regional attention and sales. The time and commitment and work involved are most likely very much the same. True for the big champions of the Tour and the dead-last dudes.
The stories in this book are full of human-interest anecdotes and humor. Some of these guys, like Jacky Durand and Abdel-Kader Zaaf, became fan favorites. Max Leonard spent years tracking down every Lanterne Rouge who's still alive. He spent time with them, and found them to be delightfully fascinating guys. He talks about their bike shops or deli-owning careers, as well as their families. I'm not sure this is a book for those who aren't cycling fans, but for fans of the grand tours, it's a must-read. For somebody like me, who loves cycling and loves thinking about a long, grueling task like writing a book or riding the Tour de France, it was a perfect read.
Besides loving the cycling stories, it vaulted me into this idea of Lanterne Roughe metaphor for writing.
I realized how much I love and respect those dudes who work just as hard as the champions, but don't have the same results. Aha! That's what happens in writing!
As I edge closer and closer to the release date for Slider's Son, my third novel, in September, I've been extremely excited, but also dreading those disappointing moments–like bad reviews, low-on-Amazon sales numbers, being overlooked for "best books" or nominees for awards lists. And yet, when you know in your heart and head that your own story is good, worth reading, and loved by a bunch of people who do actually read it, I'm going to consider that my own Lanterne Rouge status. I finished. I did it.  Ten years since I started writing it, my book is out in the world, and even if I'm not on the podium for Newbery Award or the Minnesota Book Award, or Junior Library Guild selection, I'm proud of my book and happy to share Slider's Son with the world!