Today, the entire Mankato community has a snow day. All schools and colleges and many work places are closed. Teachers and students alike rejoice as soon as the closing announcement hits our news source.
My husband has to plow snow for MnDOT, so that's the one downside of a snow day. He's out in the worst of it, but he tells me I don't have to feel guilty enjoying it just because he has to risk life and limb in a snowplow truck.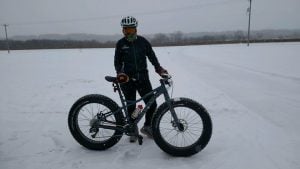 I have lots of schoolwork to do, so I'm sitting in the cozy house, grading and prepping for classes this week, with a couple candles burning.
I am hoping to maybe venture out a little later on my fat bike, though, just to do it, before dark. The wind is howling, so it's not a venture I intend to do for an extended period of time. It's just that I love being out in the snow on that bike so much; I don't want to miss a daytime chance to get out. I have set a limit on myself of how much work has to be done before I can go out, though, so I'm still working.  Yesterday, I rode with friends Chris and Lisa on gravel roads, through some mud, some ice, and snow-packed surfaces. We ventured a short ways into the Kasota Prairie, but had to turn around due to the the combo of mud, ice, and uneven terrain. We were mud-splattered and happy when we finished. I ended up getting 33 miles in, which is the longest ride I've done on a fat bike (I've had it less than a month). I would say 33 miles on a fat bike feels like maybe 50 on a road bike That's a very rough and unprofessional estimate. But a happy one.
What I want to say is this: having a fat bike changes my attitude about winter. I look forward to being out, pedaling through challenging weather and conditions. I used to feel like that about XC skiing until my knee started complaining every time I skied. Now, I have renewed love for winter. 
Let it snow.