So much is out of our control, and so much in life can drive us crazy if we let it. I'm recently reminded when Slider's Son was passed over–or completely ignored–in a nomination (which shall remain anonymous) for a book list, where I thought it would at least get a nod. At first, I felt so frustrated: "Did they even read it? Some of the recommended books that I've read aren't as good as Slider's Son!"  I have just enough experience and savvy now to be able to say that without false pride–or false humility. There's just so much we can't control, and people's reactions to our creations or to us certainly fall in that category.
I was doubly reminded this week when I read a scathing review of a book I absolutely adored (more on that soon), and was reminded that we can never, ever control other people's reactions to us. I am writing a rebuttal to that review, but in the meantime, I have some other things to say. 
We all know the traditional serenity prayer, I think:
God grant me the serenity to accept the things I cannot change,
courage to change the things I can,
and wisdom to know the difference. 
That's a mouthful of life, that is. FIghting hard for what we can do and letting go of what we can't control? If we can do that, we live in peace. I feel as if I have only just started to understand how to live this way. Why did it take me sixty frickin' years!? 
So here's how that is playing out for me: after the slighting of Slider's Son where I was pretty sure it deserved at least a nod, I was disppointed, on the verge of being upset for several hours. Then I decided I had to do more than just focus on my next writing project, because God knows I won't be able to control the powers-that-be's reactions to that one, either. I decided to embrace a challenge where I have more control over the results (we never have control, but some endeavors give us more control).
I registered for the National 24-Hour Challenge on the bike once again. I did it back in 2001 and 2002 (and actually won the women's division both years). I won, not because I'm talented or fast or gifted or anything. I won beause I have so darn much determination and perseverance that I just kept going and going and going and I rode 391 miles one year and 385 miles the next. Perseverance is something I can control. Pain, crashes, injuries and such, nope, I can't control, but overall, this is an event that I can dig into and at least dictate some of the outcome. So I registered again. And started training that day. And ordered this sweatshirt for myself, for my own inspiration: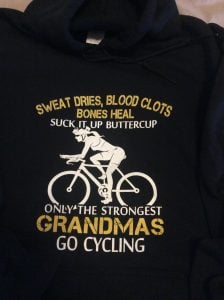 I'm 17 years older. I survived a ruptured brain aneurysm. I'm a grandma now. I'm also happily married now, by the way, and I've published three novels in that span of years. So, the point is I am not thinking I can better my mileage, but maybe I can come close. In my  wildest dreams, I would like to ride 400 miles, but I'm not sure that's realistic. My goal is to at least win my age division, and to ride enough miles to earn the 1000-mile jersey that is awarded to cumulative mileage over the course of the years. I only have to ride 224 miles to earn that!  But most important, it's something I can enjoy controlling.
The Minnesota Book Award Finalists are going to be announced tomorrow. I anticipate a big disappointment since I'm quite sure Slider's Son won't make the cut. Not because it's not a good enough book–I know it is, and actually, I believe it's a better story with better characters than some of the books I've read that it's up against, but that doesn't matter in the scheme of things. It's up to the judges, not me.  I can't control what people think, and I have been trying not to think about that, but I've failed in the not-thinking-about-it category, so now I'm concentrating on what I can do. Right here, right now. I can ride my bike. Miles and miles. So I'm going back to grading papers like a son-of-a-gun, get a stack done, and then…I'm getting out there on my bike!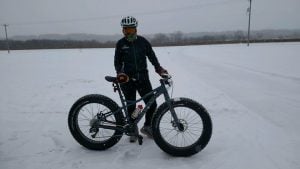 The strength and courage to change the things I can!