My friend (and fellow writing group member) Rachael Hanel pointed out to me that the U of Minnesota Press is publishing a book about Steve Biko in the spring: Biko's Ghost. It sounds pretty academic and analytical, but it sounds amazing. I can't wait to read it.
http://www.upress.umn.edu/book-division/books/bikoas-ghost
I've been reading two Biko books for a long time: BIKO by Donald Wood–sort of the definitive western biography of the man, and I Write What I Like, the collected writings of Steve Biko: speeches, essays, articles for a wide variety of publications. I'll be reviewing each of them very soon. I've taken my time reading them, trying to absorb as much as I can.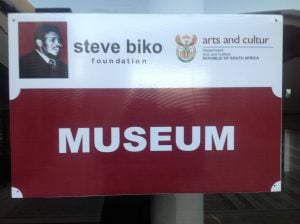 Steve Biko will forever be one of my biggest heroes.
All of the pictures on this post were taken at the Steve Biko Museum in King WilliamsTown, more specifically in Ginsberg Township in King Williams Town.
Side note: When Scott and I first visited this musem, we couldn't find it in the town. There are no big signs, no directions, and we drove around  King Williams Town for quite awhile looking.
Finally, we stopped and asked a group of four young African men where it might be. They responded, "Oh, that's in Ginsberg," with waves in a particular direction. While we were talking with them–a maximum of three minutes–a policeman pulled up behind us, on an otherwise COMPLETELY deserted street, and said, "You are blocking traffic, Meneer. Please move along."  Traffic? No, not traffic, but we were conversing with young black men, and that cop was stuck in an apartheid mindset and suffering from apartheid of the heart.
The museum is so powerful, I won't begin to explain it here. But suffice it to say, I wept through a great deal of it.
Oh, Biko, Oh, Biko. If you want a taste of the emotion, Peter Gabriel's song was playing the entire time we walked through the musuem.
This Youtube video uses footage from the movie "Cry Freedom" in which Denzel Washington stars as Steve Biko. It captures what I'm trying to say better than I can.