Tonight, I am watching a movie that I've had from Netflix for a couple weeks and haven't taken the time to watch. I regret that.
It's the story of a warder assigned to guard Nelson Mandela, first on Robben Island, then in Victor Verster. The latter is where Mandela was given a four-bedroom-house in which he could consult with other leaders, particularly President de Klerk. The two leaders knew that when
all people in South Africa were allowed to vote, the ANC would win the election, and their party leader–Nelson Mandela–would be the next president. The two men negotiated how this exchange would happen–at this very table where we're sitting.
Because of our wonderful bus driver, William, whose cousin is a warder in Drakenstein (Former Victor Verster), we were allowed into the house. Watching this film, made me cry to have had the opportunity to walk and touch such an amazing piece of history, and to be where such a great man lived.
Joseph Fiennes played the warder beautifully. Dennis Haysbert nailed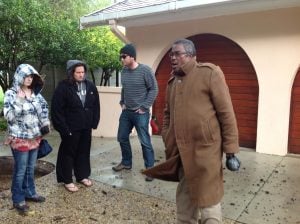 the spirit of Mandela, it seemed to me.
 I took some (Silly maybe) screen shots of the TV and then lined them up with our students in the same places: Here to the right is Edgar the warder talking to ours students. To the left is a shot of the movie in front of the same garage.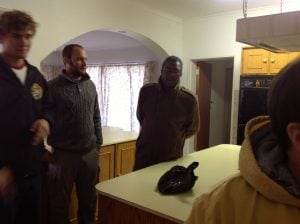 Here
is a kitchen shot during dinner in the home  in Victor Verster, and our students in that very kitchen.
Here is a shot of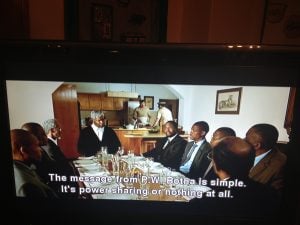 all of us at Mandela's dining room table in the prison house. Here (from the other angle) is a shot of a dinner Madiba hosted.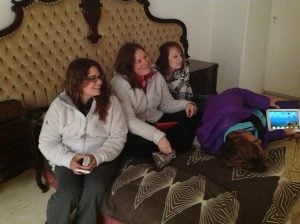 Here is a scene with Madiba and his guard. At right is Kandi, Danielle, Taylor, and Caroline (trying to stay out of the line of sight) on the same bed!
On left: the drive into Drakenstein now, commemorating Mandela's "Long Walk to Freedom" and the same drive as it looked when he was imprisoned there.
Maybe because I'd stood in those places, maybe because this part of our world's history is a metaphor for all of us–for all that we fight for in our world, for freedom and equality–and maybe because I'm honored and thrilled to get to return to South Africa later this week–but at any rate, I wept at the end of this movie.
And I recommend it entirely. I'll use it next spring when we study South Africa again in preparation for a student trip to this amazing place.