The MOVIE!  We made the paper:
http://www.mankatofreepress.com/news/local_news/scc-college-instructor-s-novel-made-into-short-film/article_12639482-cbeb-11e7-9b25-1b10572fc109.html
Today! After all this time, and all this work, Chasing AllieCat the movie will show this afternoon and Monday in Mankato.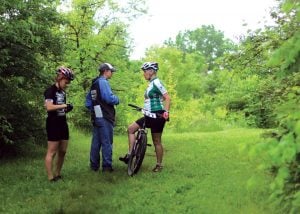 Here's Steph, doing her thing: directing, as she does so well. In this shot, she and I are consulting about a scene in the mountain bike race. (I am an extra in the bike race; hence the "costume"!)
Here's Steph and me, ecstatic that the whole thing is working.
And here is make-up artist Clara Selena C getting Father Malcolm ready for the shoot.
And here are our young stars, Ana Chan (Sadie), Zach Huels (Joe) , and Emily Sukolics (Allie), relaxing before a morning shoot.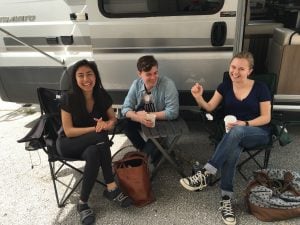 This afternoon, Nicollet Bike Shop is hosting two screenings: at 4 p.m. and 5 p.m. Can't wait.
Monday, South Central College, Conference Center C, at 12, 1 p.m., and 5 p.m.